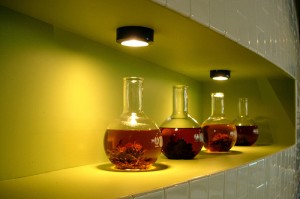 Most people, and especially Americans, would like to have a simple and guaranteed solution to cure nail and foot fungus. The cost should also be cheaper than free.
Here is an abbreviated list of commonly used home remedies for fungal infections:
Listerine
Bleach
Vinegar
Alcohol
Hydrogen peroxide
Vicks VaporRub
Oils (tea tree oil is the most praised one)
All of the above (and more) are used in preparations for soaking hands, feet and toes. These soaks are believed to possess medicinal properties that will help you get rid of nail fungus. Many web forums and blogs boast about wonderful results within weeks if not days.
While there is no direct evidence that any of theses soaks can cure nail fungus, some studies have shown that it can inhibit the growth of certain bacteria. Experts suggest soaking your feet for 15 to 20 minutes daily. Forever.
As much as we would like to believe that tiny amounts of eucalyptus contained in Vicks when rubbed over and around fungal nails will work wonders, the truth is: the "gas chamber" that you are trying to create to smoke dermatophytes from under the nail (nail bed) does not get near the area where fungi reside and thrive of the keratin of your nails.
Despite all outrageous claims and plentiful anecdotal evidence that home remedies may inhibit the growth of fungi, there little to none clinical evidence to show that any of these all natural, organic and in all other respects wonderful anti-fungal cures and remedies can actually eliminate nail fungus.
Got fungus? Get serious!
If you think you have toe or finger nail fungus the first thing you need to do is get a diagnosis from a health practitioner. Attempting one popular but unproven "home remedy" right after the other could actually aggravate your toenail fungus issue while the fungi continue to grow without treatment.