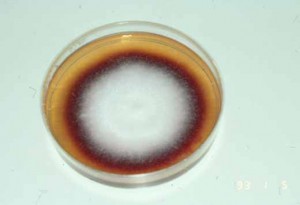 The clinical features of onychomycosis may mimic a large number of other nail disorders. Therefore, laboratory diagnosis of onychomycosis must be confirmed before beginning a treatment regimen. A negative mycological result does not rule out onychomycosis, because direct microscopy may be negative in up to 10% of cases and culture in up to 30% of cases.
Direct microscopy
A 20% potassium hydroxide (KOH) preparation in dimethyl sulfoxide (DMSO) is a useful screening test to rule out the presence of fungi. Before obtaining a specimen, the nails are clipped and cleansed with an alcohol swab to remove bacteria and debris. The preparation does not require heating or prolonged incubation if DMSO is a component of the KOH solution.
In distal lateral subungual onychomycosis, a specimen should be obtained from the nail bed by curettage. The onycholytic nail plate should be removed and the sample should be obtained at a site most proximal to the cuticle, where the concentration of hyphae is greatest.
In proximal subungual onychomycosis, the overlying nail plate must initially be pared with a blade. Then, a sample of the ventral nail plate may be taken. A blade may also be used to remove a specimen from the nail surface in white superficial onychomycosis.
Specimens suspected of candidal onychomycosis should be taken from the affected nail bed closest to the proximal and lateral edges.
Nail fragments must be small enough for examination under low power. Large pieces of nail plate may be pulverized prior to microscopy by using a hammer or a nail micronizer. Counterstains, such as chlorazol black E or Parker blue-black ink, may be used to accentuate the hyphae. Shemer et al reported that drilling to obtain specimens and taking the sample from a more proximal site yield better results.
Culture
Direct microscopy cannot identify the specific pathogen involved in onychomycosis. A fungal culture must be used to identify the species of organism.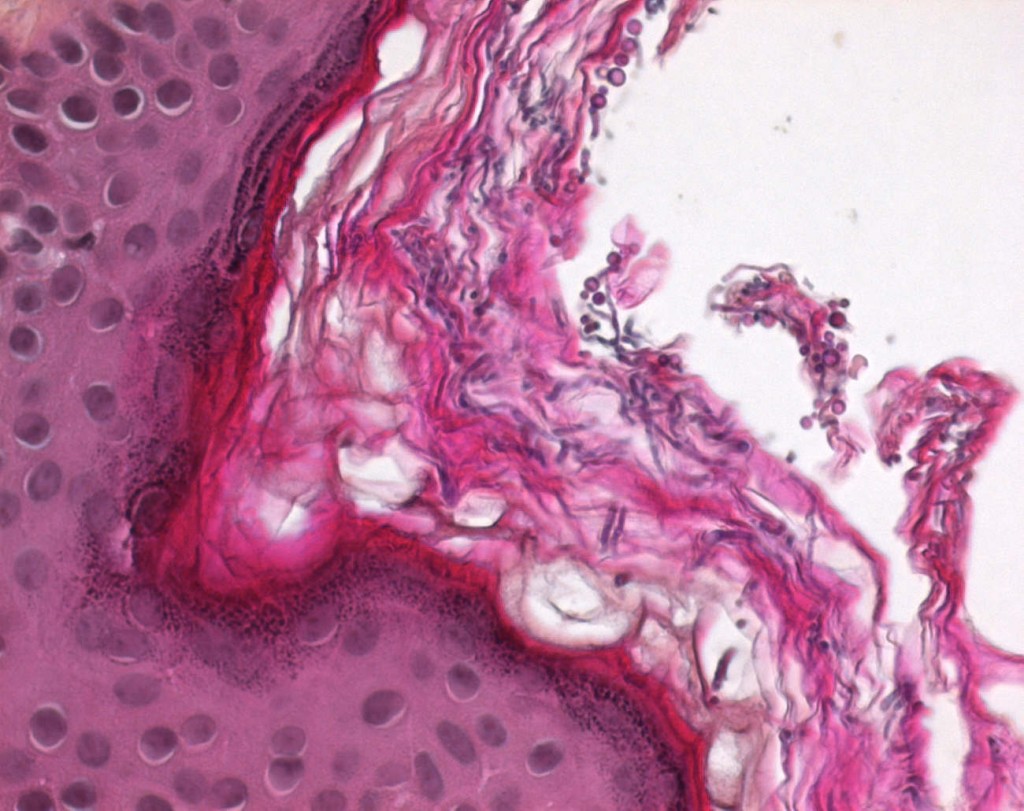 Nondermatophyte molds may be resistant to the conventional therapy used for the more common dermatophytes. Therefore, 2 types of growth medium should be used, one with cycloheximide (dermatophyte test medium [DTM], Mycosel, or Mycobiotic) to select for dermatophytes and one without cycloheximide (Sabouraud glucose agar, Littman oxgall medium, or inhibitory mold agar) to isolate yeasts and nondermatophyte molds.
Cultures should be obtained from pulverized nail scrapings or clippings while the patient has abstained from antifungal medication for at least 2 weeks. The specimen should be kept at room temperature with the cap placed loosely over the inoculated medium.
Other Tests
Polymerase chain reaction (PCR) assays have been developed to detect fungal DNA from infected nails. A highly sensitive nested PCR assay using species-specific primer pairs based on the 28S ribosomal RNA gene has been developed. This methodology permits detection of both dermatophytes and nondermatophytes.
Histologic Findings
Histologic examination of the nail is a very useful alternative to culture or KOH testing. Nail clippings may be sent to the laboratory for diagnosis in a formalin-filled container, or, as a last resort, an incisional nail biopsy (by punch or scalpel) may be performed to help confirm the diagnosis. Staining in the laboratory should be performed with periodic acid-Schiff stain (PAS) or methenamine silver stain to reveal fungal elements. A comparison of diagnostic methods revealed that a nail biopsy and staining with PAS is the most sensitive technique available to diagnose onychomycosis. Examining formalin-fixed, PAS-stained specimens has a higher probability (a higher negative predictive value) than KOH examination in determining that a patient is disease free if the test results are negative.
In addition to excluding other conditions (eg, psoriasis, lichen planus), the topographic distribution, the density, and the nature of the fungal elements may help guide treatment. Biopsy specimens of onychomycosis may show features of psoriasiform hyperplasia, including parakeratosis, thinned rete ridges, narrow suprapapillary plates, and dilated tortuous capillaries. As in direct microscopy, histopathologic diagnosis does not identify the species of causative pathogen.