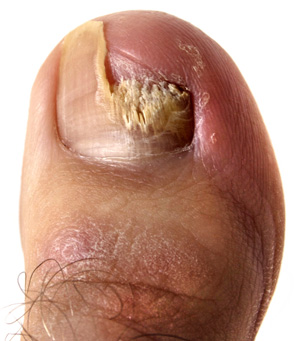 Nail fungal infections are typically caused by a fungus that belongs to a group of fungi called dermatophytes. But yeasts and molds also can be responsible for nail fungal infections.
All of these microscopic organisms live in warm, moist environments with limited light exposure, including swimming pools, showers, locker rooms. They love your shoes!
They can invade your skin through tiny invisible cuts or through a small separation between your nail and nail bed. They cause problems only if your nails are continually exposed to warmth and moisture — conditions perfect for the growth and spread of fungi.
Once dermatophytes have settled down in your nail bed and get comfortable thriving on the keratin of your nails, it may be very difficult to stop them.
Infection with nail fungus occurs more in toenails than in fingernails because toenails are often confined in a dark, warm, moist environment inside your shoes — where fungi can thrive. Another reason may be the diminished blood circulation to the toes as compared with the fingers, which makes it harder for your body's immune system to detect and eliminate the infection.
Risk factors
Nail fungus is more common among older adults for several reasons, including diminished blood circulation and more years of exposure to fungi. Also, nails may grow more slowly and thicken with age, making them more susceptible to infection. Nail fungus tends to affect men more often than it does women, particularly those with a family history of this infection.
Other factors that can increase your risk of developing nail fungus include:
Perspiring heavily
Working in a humid or moist environment
Having the skin condition psoriasis
Wearing socks and shoes that hinder ventilation and don't absorb perspiration
Walking barefoot in damp public places, such as swimming pools, gyms and shower rooms
Having athlete's foot (tinea pedis)
Having a minor skin or nail injury, a damaged nail or another infection
Having diabetes, circulation problems or a weakened immune system
Complications
Nail fungal infections can be painful and may cause permanent damage to your nails. They may also lead to other serious infections that can spread beyond your feet if you have a suppressed immune system due to medication, diabetes or other conditions.
Fungal infections of the nail pose the most serious health risk for people with diabetes and for those with weakened immune systems, such as people with leukemia, AIDS or those who've had an organ transplant. If you have diabetes, your blood circulation and the nerve supply to your feet can become impaired. You're also at greater risk for cellulitis, a potentially serious bacterial skin infection. Therefore, any relatively minor injury to your feet — including a nail fungal infection — can lead to a more serious complication, requiring timely medical care. See your doctor immediately if you suspect nail fungus.
Treatments may vary, depending on the nature and severity of the infection. A daily routine of cleansing over a period of many months may temporarily suppress mild infections. White markings that appear on the surface of the nail can be filed off, followed by the application of an over-the-counter liquid antifungal agent. However, even the best over-the-counter treatments may not prevent a fungal infection from coming back.
A podiatric physician can detect a fungal infection early, culture the nail, determine the cause, and form a suitable treatment plan, which may include prescribing topical or oral medication, and debridement (removal of diseased nail matter and debris) of an infected nail.
Newer oral antifungals, approved by the Food and Drug Administration, may be the most effective treatment. They offer a shorter treatment regimen of approximately three months and improved effectiveness. Podiatrists may also prescribe a topical treatment for onychomycosis, which can be an effective treatment modality for fungal nails.
In some cases, surgical treatment may be required. Temporary removal of the infected nail can be performed to permit direct application of a topical antifungal. Permanent removal of a chronically painful nail that has not responded to any other treatment permits the fungal infection to be cured and prevents the return of a deformed nail.
Trying to solve the infection without the qualified help of a podiatric physician can lead to more problems. With new technical advances in combination with preventive measures, the treatment of this lightly regarded health problem can often be successful.